Maverick Drilling offers well services in New Mexico and Texas. We're licensed and bonded well drillers and pump installers.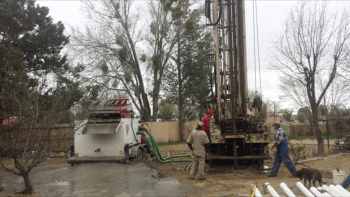 MAVERICK WELL SERVICES
We offer well drilling services for domestic, irrigation, municipal, and geothermal wells. We're licensed drillers and pump installers in NM and TX.
To insure that a well is functioning properly, a well inspection will include a visual and physical survey of the well and its auxiliary equipment.
Water testing is advised If you're buying property with a well, or if you notice changes in your well water. Maverick Drilling has the resources needed for testing your water.
Well owners should ensure that their water well is performing efficiently and producing high quality water with annual well maintenance services.
As you can see from the following BEFORE and AFTER photos, well rehabilitation procedures help remove debris from the well screen to increase water flow.
When it's time to abandon your well, MAVERICK DRILLING is licensed and has the expertise to perform your well plugging procedure according to state laws
Attached to a mono-conductor cable, the downhole camera allows for real time observation of the casing and well screen to help diagnose problems.